Our company, which has extensive experience in geodesy service, proposes solutions suitable for various application areas of national economy in the direction of geodesy and topography. Our main directions for geodesy services include:
Marine geodesy
– Bathymetry surveys (single-beam and multi-beam)
– Geodetic solutions on offshore field
– Bathymetric modeling
– Geodetic provision of marine surveys
– Change detection based on geodetic survey
– Determination of the current situation of the stopper
– Marine surveys and geodetic provision
– Side Scan Sonar surveys
Geodetic surveys and technical inventory of hydrotechnical facilities (reservoir, canal and collector)
Topographical surveys of lands for various purposes (agriculture, etc.)
Implementation planning (preparation of as-built schemes), facade measurements, building internal geodetic surveys etc.
Creation and updating of topographic maps
Preparation and installation of geodetic reference points
Creation of geodetic monitoring network
Geodetic survey of deformations of various buildings and facilities, constructions
Topographic surveys of highways (roads) and railways (determination of slopes and dips, determination of curvatures and radii, preparation of profiles, creation and updating of passports of railways)
Geodetic provision for all construction objects
Laser scanning surveys, LIDAR technology
Topographic survey by all methods
Drone surveys (Photogrammetry)
Topographic surveys of the plots of land and real estate under the project
Determination of underground communication lines
Leveling jobs for all classes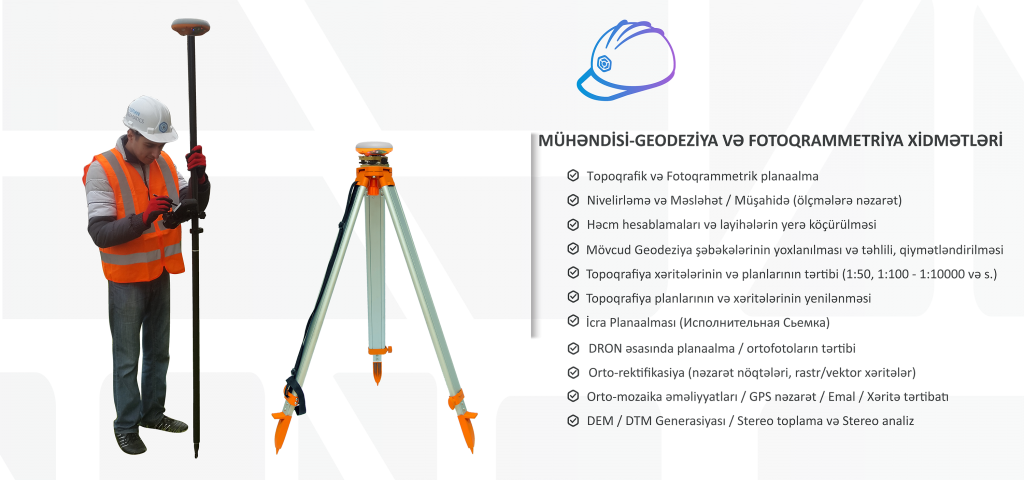 Geodetic survey on construction
For this service, geodetic surveys of reinforced concrete elements (columns, walls, crossbars, stairwells, elevators) are performed on the construction site and in the building. Average levels of entrances, communication details of floors (diameter, material, destination) and floor spaces are determined by geodetic service. The sub-levels of the floor, ceiling and crossbars are determined, the floor levels are distributed. Geometric dimensions of windows, door openings and passages are determined, profiles are created and geodetic points are balanced on each floor and marking works is carried out. Buildings can be designed both in a single plan and with all floors included. All normative documents on geodetic service are followed, plan and vertical works are performed with high accuracy.
It is necessary to carry out the determination of all the bias missed in the construction process, as well as the determination of the coordinates and height of the constructed object, and the determination of the dimensions of individual parts, according to the geodetic service. In this regard, we consider all the details and give the necessary advice, despite the methodologically overlooked criteria of the Client.

Topography service for agricultural fields
One of the widely used fields of topography service is agriculture. Topography is the study of the land, including its features and characteristics such as elevation, slope, soil, and other features. Topography is often studied using maps, which show the position of objects on the ground and their relationships to other things and elements. We have extensive experience in this field. Preliminary assessment of the area is important for agricultural activities and infrastructure (road (highway), electricity, water lines). Preliminary assessment is possible as a result of topographical survey. Land design is also an important issue, which requires topographical surveys. CASPIAN GEOMATICS LLC has signed numerous contracts for the purpose of carrying out engineering-topography surveys in the field for the cultivation of various agricultural plants. There are a number of methodological approaches applied in agriculture. These methods include tacheometric survey and GPS measurement methods, drone, integrated application methods, high-resolution aerospace data application methods. Our company has a special potential for applying all the mentioned approaches.
The topography of an agricultural area can significantly impact the crops grown and the farming methods used. For example, areas with steep slopes may be more suited to terraced crops. Meanwhile, flatter areas are better for large-scale farming operations. The type of topography can also affect how water is drained from the land, impacting irrigation and the types of crops that can be grown.
Usually, the investigation area for topographic survey by topographic service is methodically analyzed based on cartographic materials in advance. The surface structure of the area is analyzed and aerospace data with various resolutions are used. Then, the area is assessed in terms of applied methodology. At the next level, the issue of installing a geodetic reference point or using an existing state geodetic station by geodetic service is considered. Based on this, the issues of measuring, calculating and balancing geodetic reference points in static mode are solved. In these measurements, reference base points are selected (RTCM-REF GNSS points), connected and an averaged observation criterion is selected. The equipment is centered on the point and the height is measured. Installed benchmarks are calculated based on GNSS stations as a method.
Operational methods include terrestrial laser scanning surveying methods or aerial photography (LIDAR). In the application of photogrammetric methods, the issues of flight planning and its accurate execution are considered. To ensure the geodetic accuracy of the product, photogrammetric reference points are installed in the area, their coordinates and elevations are measured. The unmanned aerial vehicle is equipped with a high-quality camera, and high-resolution images are obtained. Aerial photos are processed, an aero triangulation model is created and balanced.
SOME OF THE SIMILAR PROJECTS WE HAVE DONE
Making digital map of Shusha city. State Tourisim Agency of the Republic of Azerbaijan (November 2020/2021- January)
Creating Geographical Information System of  Karabakh and Eastern Zangezur economic regions. State Tourisim Agency of the Republic of Azerbaijan (November 2020/2021- January)
Creating Geographical Information System and making digital maps of the area of "Yukhari Bash" National Historical-Architectural Preserve included in UNESCO World Heritage List which is the historical centre of Sheki. State Tourisim Agency of the Republic of Azerbaijan (November-December, 2020)
Survey of the seabed in the project area (Lankaran) and investigation of active erosion processes in coastal zones (2020/August-September)
Implementation of Bathymetric survey in the delta and on the basin of the Caspian sea (2020/May-June)
Implementation os SONAR (Side Scan Sonar) and Bathymetric survey on the Caspian sea basin (2020/April)
Engineering-Geodesy (Executive Survey) work implementation project in non-residential building (2018/June)
Implementation of Topographic works on 3200 hectare area of Yevlakh and Goranboy districts (2018/August)
"Orthophoto mapping and creating topographic map of 7000 ha area of Saatli region" project (2018 January/February)
---
See also:
Remote sensing
Geological and geophysical services
GIS Solutions
Hydrography
Cartography