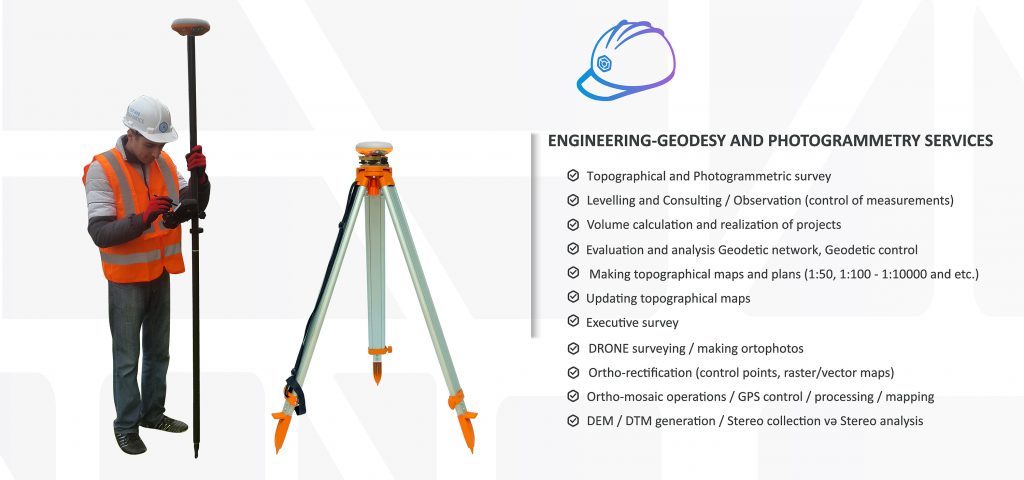 CASPIAN GEOMATICS LLC has a broad experience on a different range of application of geodesy. One of such range of application is executive survey. We implement exact geodesy survey of reinforced-concrete elements (column, wall, girth rail, staircase, lift and etc.) in construction sites or the existing buildings. We determine the middle level of entrances, the existing communication details (diameter, material, fixing and etc.) in all storeys and all storey gaps during executive survey. Bottom level of floors, ceilings and girth rails are determined in all storeys, depending on terms of reference distribution of floor levels with m2  is carried out.  At the same time, determining geometrical sizes of window, door gaps and other gaps separate profiles for each entrance are fixed and balancing geodesy reference stations on each storey marking them is executed. Depending on the request of a Client buildings can be provided both in a single plan and plans of storeys can be made.  It should be noted that during making topographic plans and preparation of executive survey documents of geodesy measurements we comply with all normative documents based on an instruction.  We implement our works with the highest precision based on the plan and vertical.
It should be noted that finding all deviations methodically occured in construction process during executive survey, as well as  determination of the real coordinates and heights of a constructed facility, clarification of sizes of seperate parts should be necessarily done. Despite criterias that have not been taken into account by a Client, we consider all details and provide the necessary advices.

One of our wide experience is agriculture. With the purpose of implementation of agricultural activities in any location and creation of an infrastructure (road, electricity, water lines and etc.), it is necessary to carry out preliminary assessment of a field which is possible as a result of execution of detailed topographical survey. Furthermore, it is necessary to design a field which requires use of topographical plans. In order to cultivate different kind of agricultural plants in fields, CASPIAN GEOMATICS LLC has signed numerous contracts with the purpose of implementation of engineering-topographical work in a field. It should be noted that we have some methodological approaches to be applied in agricultural filed.  These methods include tachometric and GPS survey methods which are considered as a traditional one, photogrammetric survey (making orthophoto plans of arable lands / DEM / DTM) methods through DRONE (UAV-unmanned aerial vehicle), as well as use of integrated applied methods with the purpose of making orthophoto plans, applied methods of high resolution remote sensing data.   Our company has special potential with regard to application of all mentioned methods.
Usually, for topographical survey of agricultural fields, the project area is analyzed in a cameral condition, existing cartographic materials are used, as well as surface structure of the field is reviewed, aerospace data of different resolution are used as well. After this the area is assessed in the view of applied methodology. In the next stage we review the issues of erection of geodesy reference stations by us or use of the existing state geodesy stations. On this basis issues like measurement of stations during static or other modes, calculation and balancing measurement results are solved.  In this measurements  reference base points are selected (RTCM-REF GNSS stations), connection is provided to reference points and average observation criteria is selected.  Device is centralized over a point and the height is measured.  As a method fixed benchmarks are calculated based on GNSS stations.
In order to survey the area, the work can be done connecting to AZPOS network and using GPS survey method. At the same time tachometric survey method can be used as well. But this method takes a lot of time but the project can be implemented with the logical end.  In big fields this method can be considered unsuitable in the view of time.  If a Client requires to complete work in a short time, in this case either more staff can be hired or other methods can be used.  In the view of time the effective methods can include over ground laser scan surveying or aerophoto survey (LIDAR).  To be more accurate we apply photogrammetric method as another one.  In our experience we have had such cases that we have applied different methods in the same project. During application of photogrammetric methods issues with regard to planning flight for aerophoto survey and its exact implementation are reviewed. On this basis in order to ensure accuracy of results and control them, photogrammetric reference stations are installed in sites, their coordinates and height are measured. Equipping a flying vehicle with a high quality photo camera high resolution images are obtained. Aerophotos are processed, aerotriangulation model is made and balanced.
One of the method to be applied in agricultural fields is Remote Sensing (RS) method. RS method has broad devices in agriculture. This include spectral analysis.  Information about application of RS in agriculture and other fields have been thoroughly provided in Remote Sensing part http://caspiangeomatics.com/em_portfolios/remote-sensing-solutions/. But RS data can be used as well for making high resolution orthophotos of agricultural fields. Therefore, GCP (Geodetic Control Points) are determined, coordinates and elevation level of the same points are clarified. Implementing connection to reference points based on this precise orthophotos are obtained.
It should be noted that we have services like determination of a land field suitable for cultivation, digital modelling of an area and eventually installation of GIS in a project area. At the same time, we have a specific experience in planning arable land (realization of the project). We implement both planning work and transferring them to nature based on modern programs. At the same time, we render consultation services on our field of activities.
CASPIAN GEOMATICS LLC is distinguished with application of Geodesy and Photogrammetry in numerous fields. Services like mainly topographic and photogrammetric survey, levelling, volume calculation, checking and analyzing geodesy networks which are available in the area, evaluation, as well as executive survey works, DRONE (UAV-unmanned aerial vehicle) survey are available. At the same time services like topographical survey of relief, modelling, topographical assurance in landscape design work, different class of levelling, tachometric survey,  geometric calculations, installation of  stations, implementation of survey of inside and facade of a building in construction sector are available.
SOME OF THE SIMILAR PROJECTS WE HAVE DONE
Making digital map of Shusha city. State Tourisim Agency of the Republic of Azerbaijan (November 2020/2021- January)
Creating Geographical Information System of "Yukhari Karabakh" and "Kalbajar-Lachin" economic regions. State Tourisim Agency of the Republic of Azerbaijan (November 2020/2021- January)
Creating Geographical Information System and making digital maps of the area of "Yukhari Bash" National Historical-Architectural Preserve included in UNESCO World Heritage List which is the historical centre of Sheki. State Tourisim Agency of the Republic of Azerbaijan (November-December, 2020)
Survey of the seabed in the project area (Lankaran) and investigation of active erosion processes in coastal zones (2020/August-September)
Implementation of Bathymetric survey in the delta and on the basin of the Caspian sea (2020/May-June)
Implementation os SONAR (Side Scan Sonar) and Bathymetric survey on the Caspian sea basin (2020/April)
Engineering-Geodesy (Executive Survey) work implementation project in non-residential building (2018/June)
Implementation of Topographic works on 3200 hectare area of Yevlakh and Goranboy districts (2018/August)
"Orthophoto mapping and creating topographic map of 7000 ha area of Saatli region" project (2018 January/February)
---
See also:
Remote Sensing
Geological & Geophysical surveys
GIS Solutions
Hydrographic surveys
Cartography